Blog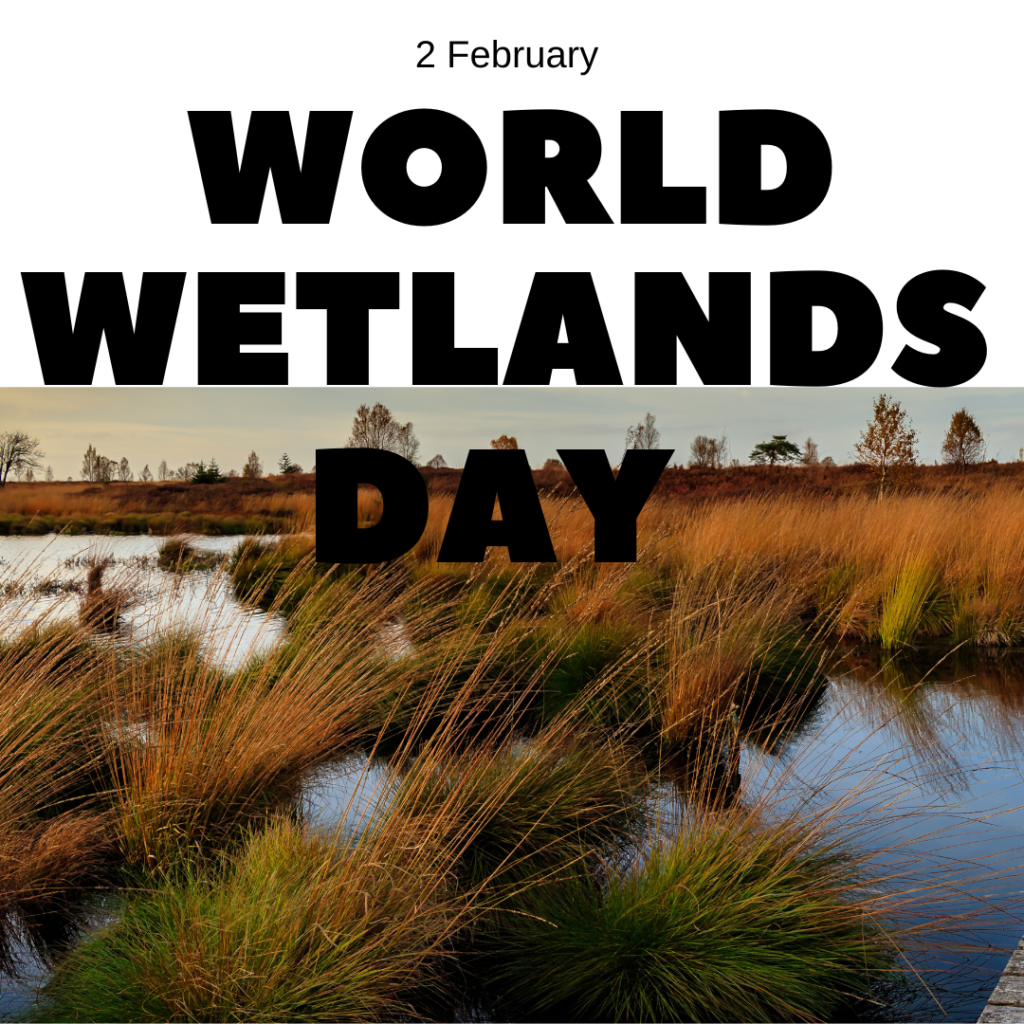 PRIME INITIATIVE FOR GREEN DEVELOPMENT (PIGD) IN COMMEMORATION WITH THE 2023 WORLD WETLANDS DAY, ADVOCATES FOR NIGERIA'S RAMSAR SITES: MORE WETLANDS INCLUSION AND RESTORATION.
By: Morrison Omoro
Wetlands are portions of land that are saturated with water. The water is often groundwater, seeping up from an aquifer or spring. A wetland's water can also come from a nearby river or lake. Seawater can also create wetlands, especially in coastal areas that experience strong tides. They are found along coasts and inland. Some wetlands are flooded woodlands, full of trees. Others are more like flat, watery grasslands.
Wetlands sustain life and keep us healthy. Healthy watersheds provide natural, safe drinking water and support food production. Wetlands give us much of the fresh fish we eat and are used in cultivating rice for an estimated 3.5 billion people globally. Wetlands are important for biodiversity as a large number of the world's fish species live in wetlands.
Ramsar Sites are wetlands of international importance that have been designated under the criteria of the Ramsar Convention on Wetlands for containing representative, rare or unique wetland types or for their importance in conserving biological diversity.
Nigeria has a total of 11 globally recognized Ramsar sites & the total area of the 11 ramsar sites (wetlands) is about 1,076,728 hectares. These wetlands include: Lake Chad Wetlands in Borno State, Dagona Birds Sanctuary in Yobe State, Hadejia-Nguru Lake in Jigawa and Yobe states, Maladumba Lake in Bauchi State, Baturiya Wetlands in Jigawa States, Forge Islands in Kebbi State, Apoi Creek Forests in Bayelsa State, Padam and Wase Lakes in Plateau State, Upper Orashi Forests in Rivers State, Oguta Lake in Imo State and Lower Kaduna-Middle Niger Floodplain in Niger State.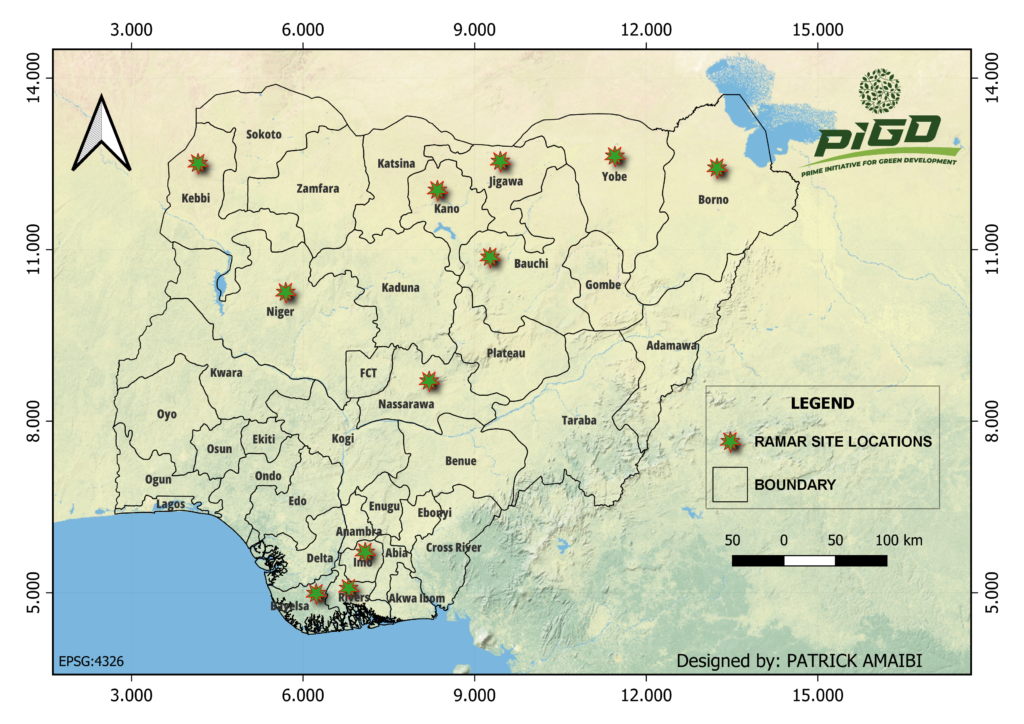 However, Nigeria's rich ecosystem continues to be endangered at an alarming rate due to industrial waste pollution, massive deforestation, increasing population, intensive cultivation, plantation, oil and gas exploration and other activities that lead to the degradation of natural resources like the wetlands, which are rich in biodiversity.
In February 2022, While commemorating the Wetlands Day in Hadejia in Jigawa State, The then Nigerian Minister of State for Environment, Chief Sharon Ikeazor, explained that under an effective and sustainably managed healthy ecosystem, they have a vital role in addressing socioeconomic challenges by creating millions of jobs in sectors such as forestry, fisheries, agriculture and tourism. The minister further said coastal and inland wetlands are popular locations for tourism and recreational activities such as swimming, boating, fishing, camping, annual festivals and bird watching, and offering income opportunities for local communities.
Chief Ikeazor said that ecosystems are being threatened due to population pressure, poverty, deforestation, intensive cultivation, oil, gas and industrial waste pollution, coastal and marine erosion; overgrazing as well as climate change, saying, the component is being lost at an alarming rate and the need for urgent intervention. Following the minister's recognition of the rich wetlands in the coastal regions of the country particularly the Niger Delta, which is home to several notable swamps and deltas, many could ask, why aren't there more Ramsar Sites in Nigeria ?
The answer to this question is that, according to the Ramsar Convention (the global body saddled with the responsibility of conserving, protecting and ensuring the most sustainable use of wetlands through local and national actions and international cooperation, as a contribution towards achieving sustainable development throughout the world), there are steps that lead to a wetland being named a Ramsar Site. These steps include; identification, assessment and designation. Also, a wetland qualifies for the designation of 'international importance' if it meets the stated criteria relating to functioning, such as hydrology, ecology and support of human as well as wildlife populations.
Below are the Ramsar Convention Criteria for Ramsar Sites; A wetland should be considered internationally important if
Criterion 1: it contains a representative, rare, or unique example of a natural or near-natural wetland type found within the appropriate bio-geographic region.
Criterion 2: it supports vulnerable, endangered, or critically endangered species or threatened ecological communities.
Criterion 3: it supports populations of plant and/or animal species important for maintaining the biological diversity of a particular biogeographic region.
Criterion 4: it supports plant and/or animal species at a critical stage in their life cycles, or provides refuge during adverse conditions.
Criterion 5: it regularly supports 20,000 or more waterbirds.
Criterion 6: it regularly supports 1% of the individuals in a population of one species or subspecies of waterbird.
Criterion 7: it supports a significant proportion of indigenous fish subspecies, species or families, life-history stages, species interactions and/or populations that are representative of wetland benefits and/or values and thereby contributes to global biological diversity.
Criterion 8: it is an important source of food for fishes, spawning ground, nursery and/or migration path on which fish stocks, either within the wetland or elsewhere, depend.
Criterion 9: it regularly supports 1% of the individuals in a population of one species or subspecies of wetland-dependent non-avian animal species.
In joining the efforts of the Ramsar Convention, more wetlands in the Nigerian Coastlines seem qualified to meet the international criteria for being designated as Ramsar Sites and could therefore be recognized as being of significant value not only for the country alone, but for humanity as a whole.
As a way of commemorating with the theme of the World Wetlands Day 2023; "Its Time for Wetlands Restoration", Prime Initiative for Green Development (PIGD) in concurrence with the United Nations and the Ramsar Convention, hereby encourage, that as a Country or as individual States within the Country, there is need for application for the consideration of proposed Ramsar sites. This will help in tackling the current problem of under representation & also aid the all important drive towards conserving and restoring our wetlands, and sustaining our ecosystem.
Please follow and like us: