Blog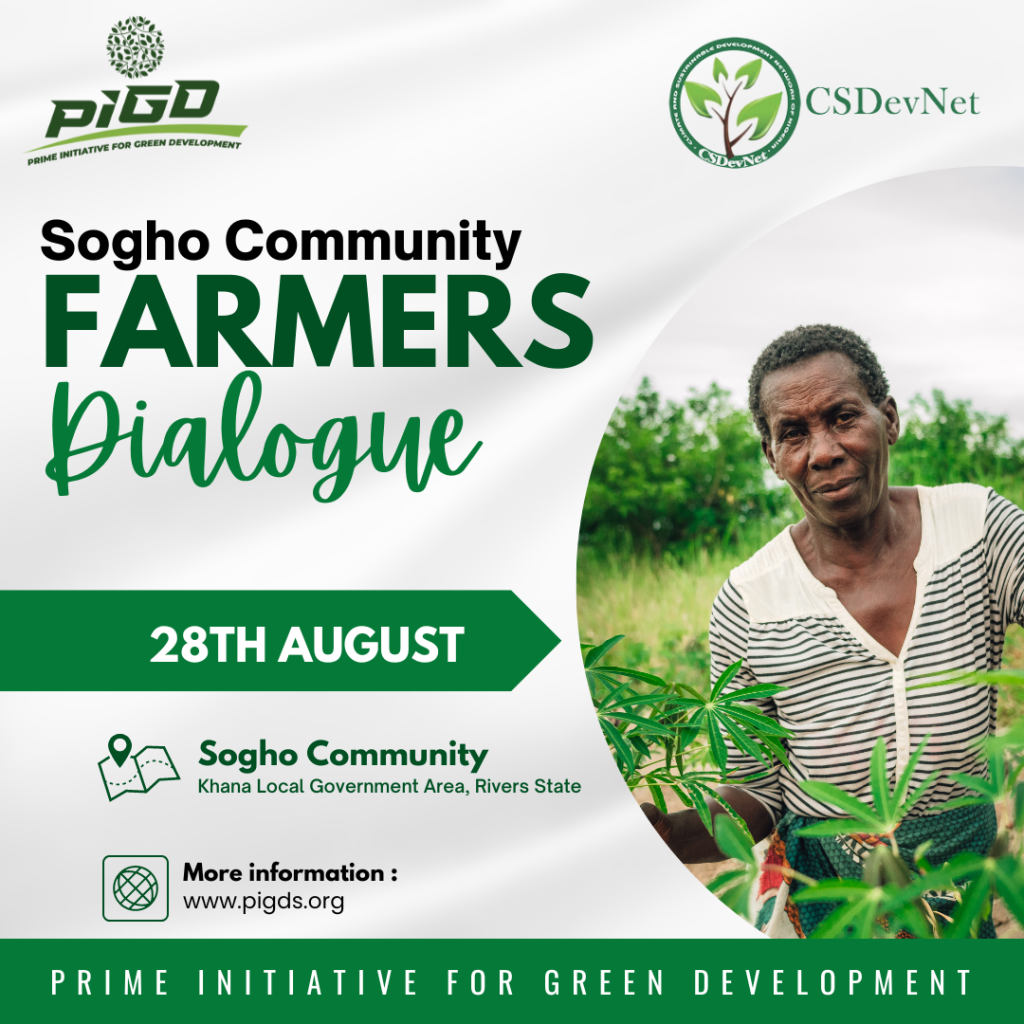 FARMERS' DIALOGUE IN SOGHO COMMUNITY, KHANA LOCAL GOVERNMENT AREA, RIVERS STATE
On Monday, August 28, 2023, Prime Initiative for Green Development (PIGD) in partnership with the Center for Sustainable Development Network (CSDevNet) organized and held an epochal Farmers Dialogue in Sogho Community, Khana Local Government Area, Rivers State.
Sogho is a rich agrarian community with a large expanse of viable lands and agricultural activities. From our survey in this region, this community is host to many small-scale farmers who focus on cultivating cash crops like cassava, yam, pumpkin leaves, melon, tree leaf yam, corn, cucumber, coco yam, peppers, palm tree, plantain, several fruits, with a number of livestock farms as well.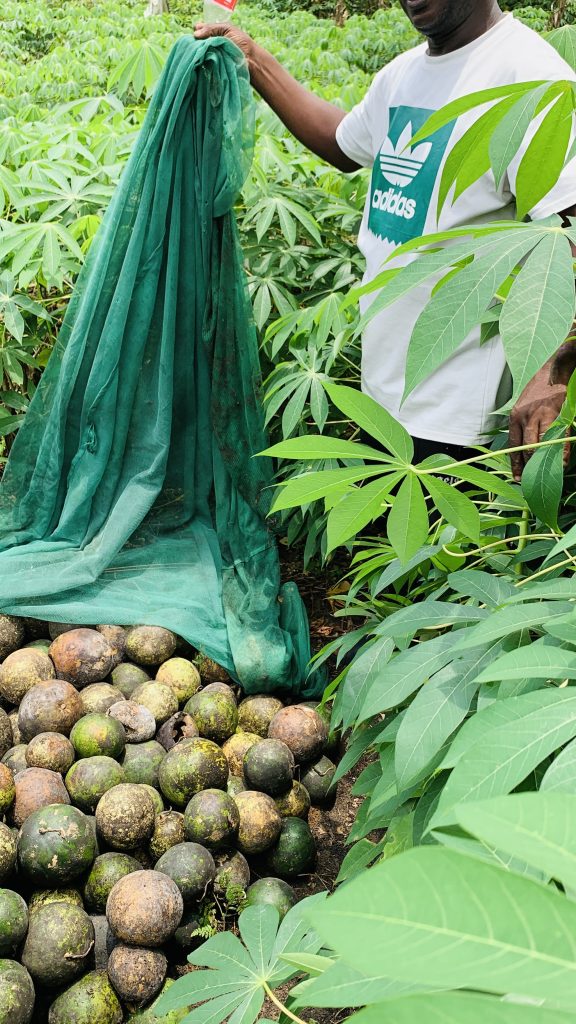 Food remains one of the most basic needs for the sustenance of humankind and though Nigerian farmers are mainly small-scale farmers, agriculture as a sector contributes a significant percentage to the country's gross domestic product. However, in recent years, there has been an increase in weather-related disasters such as harsh rainfalls, unpredictable weather conditions, erosion, and flooding. The variability in these climate issues continues to create uncertainties for farmers which invariably has resulted in a decline in food production across the Nation which has also led to high inflation rates, loss of livelihoods, food insecurity, and hunger. Adaptation to climate change and risk mitigation has therefore become a dire need for a country with an ever-increasing population.
In response to these prevalent challenges among farming communities in the country, lack of adequate infrastructure and poor institutional framework, the farmers dialogue in Sogho Community in Khana Local Government Area, Rivers State Nigeria was put together to help bridge the gap in the uptake and integration of Climate Smart Agriculture by farmers in rural communities in Nigeria.
At about 10:30 a.m. that morning, the team from Prime Initiative for Green Development arrived at the venue of the dialogue in the community to a teeming crowd of farmers who had just returned from their farms that morning and were already assembled at the venue for the meeting.
The dialogue kicked off at 11:00 a.m. with a welcome address by the chief of the community to his people. Speaking in the Ogoni local dialect with the aid of an English interpreter, he welcomed the crowd of chiefs, elders, young farmers, elderly men, and women farmers present who were representing the six clans in Sogho Community
Luusue Sogho
Zor Sogho
Barakaani Sogho
Akporo Sogho
Teka Sogho,
Nuagha Sogho
After the Chief's welcome address, there was a series of interactive sessions with the team from the organization and the local farmers present, ranging from the farming challenges facing farmers in Sogho to the role of government policies and community engagement in Nigeria today and an introduction to Climate Smart Agriculture. These interactive sessions were very engaging as the farmers expressed themselves, shared their indigenous knowledge with us, and were introduced to more sustainable farming practices.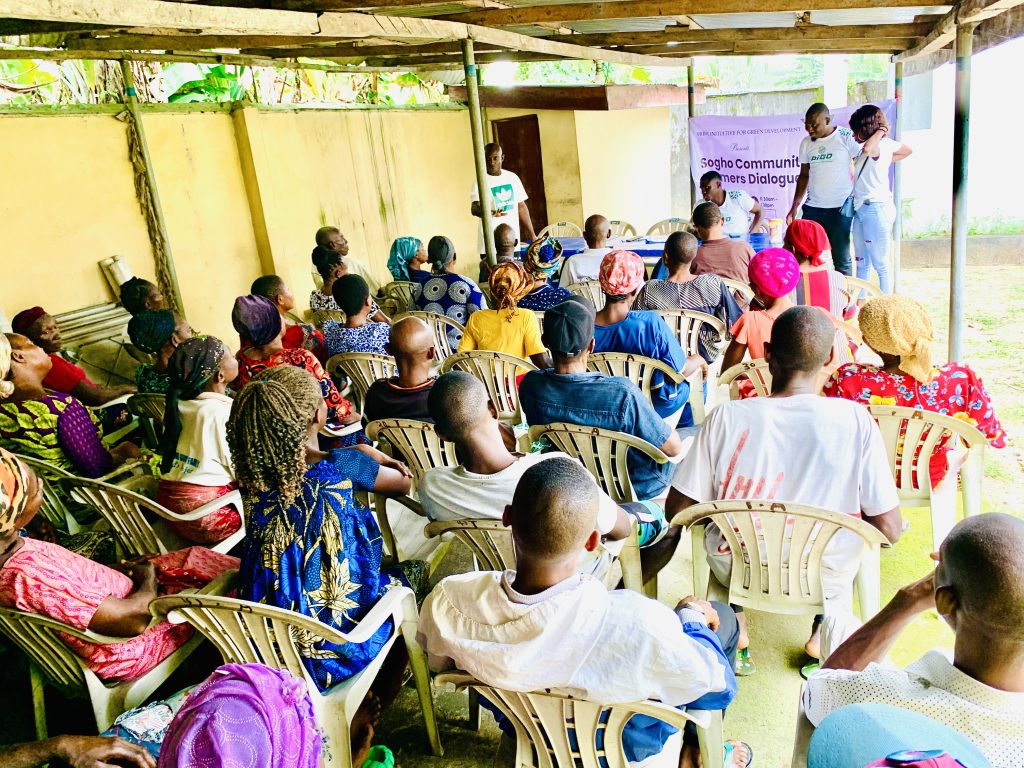 While addressing the challenge of the changing climate, irregular heavy rainfall, and mitigation efforts being applied by the people in their farming, most of the farmers reported the fact that they endured major losses annually and had to resort to early harvesting as their only response.
They however admitted to experiencing these losses due to their inadequate capacity to effectively deal with the various challenges posed to farmers in recent times.
Furthermore, in response to getting introduced to basic techniques in Climate Smart Agriculture, the farmers unanimously indicated their interest in learning more about these proven strategies that mitigate carbon emission in agriculture and guarantee better food production, more yield, and sustainable development in their region.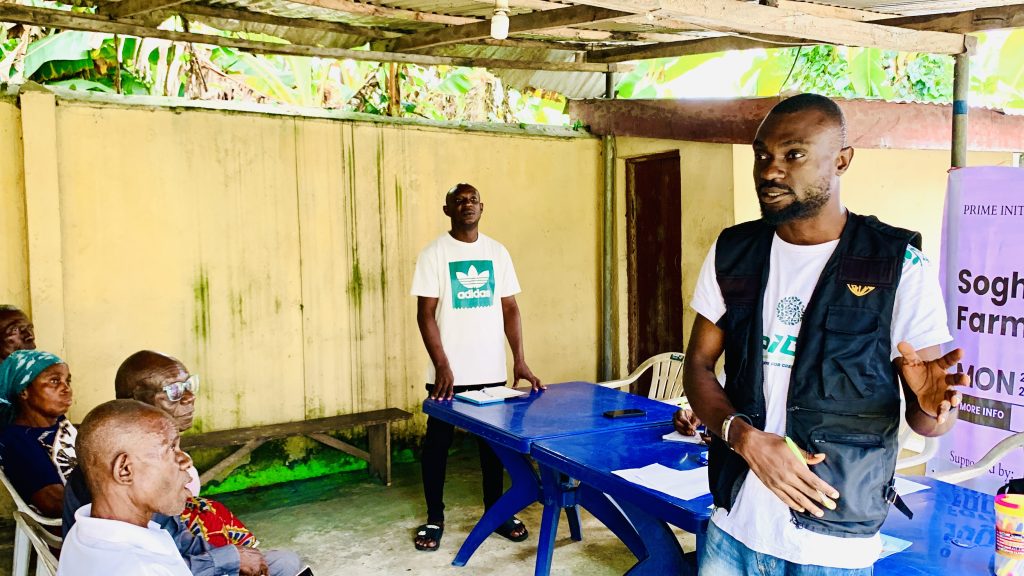 The farmers and the community leaders also stated that there has never been any form of electric power supply in the Sogho Community and appealed for the provision of Solar energy to the community, being a cleaner and more eco-friendly energy source. The farmers solicited this support as this would upscale their level of production and development as farmers and as people.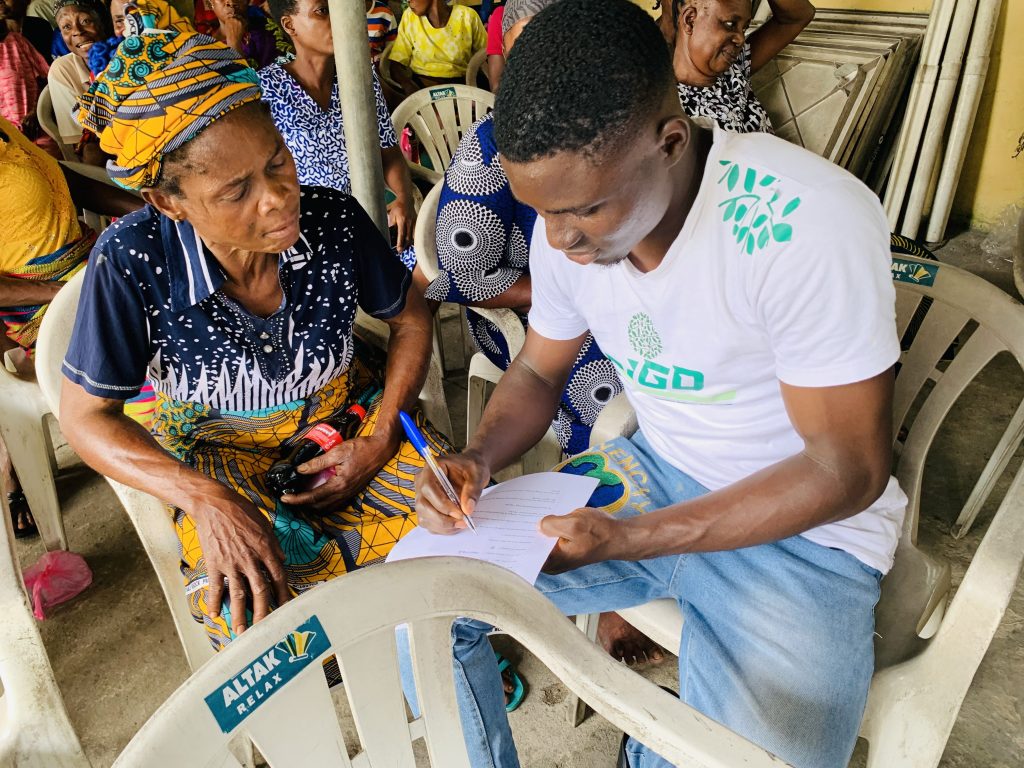 They also noted that no government body had ever visited them regarding their concerns as a people, apart from politicians who seldom visit during elections to campaign for votes and make promises to them.
They also stated that no humanitarian agency or civil society organization has aided them in any way yet. Shortly after the dialogue sessions, the team from Prime Initiative for Green Development proceeded to visit some of the farms in the community. We observed that large acres of land across the community were solely dedicated to farming and food production of various types, with some lands completely occupied with tree covers and wild vegetation.
Equipping more farmers and local communities like Sogho is one way to certainly achieve some of the World's Sustainable Development Goals(SDGs), as this will certainly inspire more opportunities for replication within the country leading to a major increase in food production, the reduction of greenhouse gases emissions, carbon sequestration, farmers' resilience, and sustainable development in Nigeria.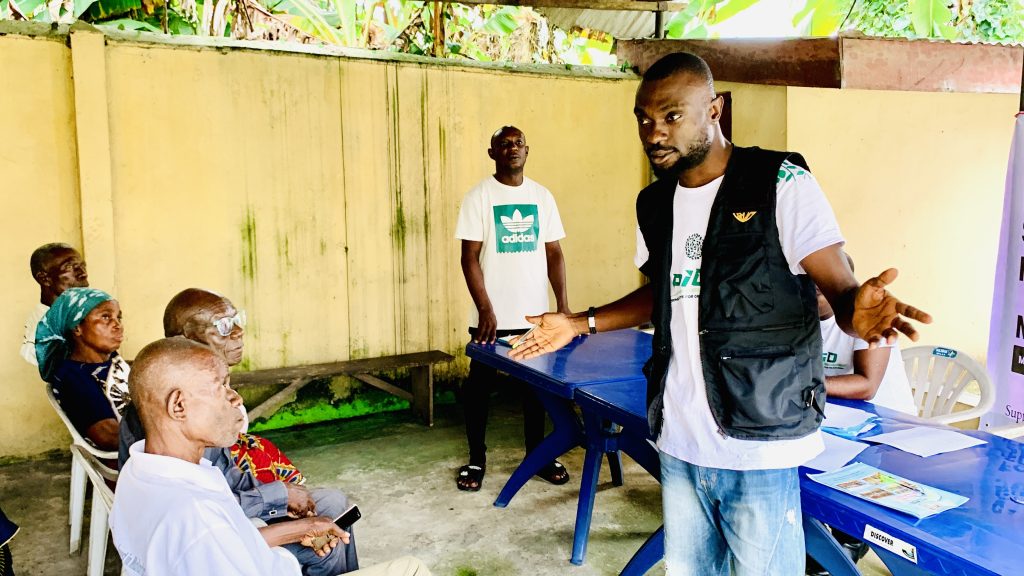 Please follow and like us: